Company Profile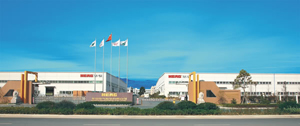 Huayi Electric Co.,Ltd. is the core subsidiary of the HUAYI Elec. Apparatus Group. In the February of 2007, we became the first Wenzhou electric company to be listed on the Shanghai Stock Exchange (SSE). Approximately 30% of our 1,500 employees are highly experienced engineers.
Huayi Electric Co.,Ltd. has 7 core subsidiaries and 4 divisions. Our focus is primarily concentrated on 2 industries--wind energy and electric apparatus. We can provide customers with high fidelity products such as the wind turbine, SF6 circuit breaker, load break switch, disconnect switch, MV & LV metal-clad switchgear, automation distribution switch, medium/high-voltage vacuum circuit breaker, and switchgear devices at 252Kv or below.
Our production base for MV & LV devices is considered to be one of the largest in mainland China. For the past decade, our sales figure for outdoor Medium-voltage vacuum circuit breaker has consistently been ranked first. As a rising star in the wind energy industry, we were named as a top 10 wind turbine manufacturers in 2009.
HUAYI is a longtime advocate of ingenuity and independent development. As a pioneer in the wind energy and electric apparatus industry, we are consistently introducing new technologies and innovative products onto the market. Our company is certified by the ISO9001 Quality Management System, ISO14001 Environmental Management System, as well as the OHSAS18001 Occupational Health & Safety Management System. Our products are approved by standard such as KEMA, GOST, TUV, CE/LVD, and CPRI. These devices are utilized extensively by industries such as petroleum, chemical, and railway.
We are the designated supplier for both the State Grid Corporation and the Top 5 Power Generation Groups of China. HUAYI products are readily available in countries including Russia, Ukraine, Vietnam, Bangladesh, Yemen, Lebanon, Chile, Venezuela, etc. Our global distribution network provides full coverage for regions including Europe, Asia, Africa, America, and Oceania. Through diligence and perseverance, we will become an internationally recognized enterprise!
Main Business
Our products are available in a wide variety, including wind turbine generators, circuit breakers, load break switches, outdoor disconnect switches, indoor disconnect switches, indoor vacuum circuit breakers, and other related products. These products can be used in wind power generation, rural power grids, military activities, investigation and research, residential construction, and other fields.
Our outdoor vacuum circuit breaker has been awarded as a National Key Promoting New Product by the former Ministry of Electric Power, and its sales volume has been number one in China for seven years. Our outdoor vacuum load break switch was used in the project to upgrade the power grids when Beijing hosted the Olympics, and made great contribution to the success of the Beijing Olympics. Our transmission and distribution products have played important roles in the projects of the Neijiang-Kunming Railway, the first railway with an automated power distribution network in China, the Handan urban power grid distribution automation project, Xian Chengyun Village's and Changsha Helong's gymnasium, and they are also used in Lhasa, the capital of Tibet.
In addition, the Huayi Electric Co., Ltd. strives to develop and use renewable energy sources. We not only have developed a 780KW wind turbine generator system, but we also jointly developed a 1.5MW wind turbine generator system with Aerodyn in Germany.
Markets
As a professional, export-oriented enterprise, Huayi Electric Co., Ltd. has a vast global sales network. Our circuit breakers, load break switches, disconnect switches, and other products have been KEMA, GOST, CCC, TUV, WTGS, and CB certified. Due to their reliable quality and affordable prices, our products are well received by customers all over the world, including: Germany, Russia, White Russia, Romania, Bulgaria, Serbia, Albania, Egypt, South Africa, Kenya, Ghana, Africa, America, Argentina, Chile, Peru, Ecuador, Venezuela, Salvador, Korea, India, Mongolia, Iran, Pakistan, Iraq, Syria, Nepal, Bangladesh, Vietnam, Burma, and Kazakhstan, to name a few.
Our company is located in Wenzhou, a coastal city of the East China Sea. Here we have convenient access to any kind of transportation you may need: sea, land, or air. If you are looking for wind turbine generators or power transmission and distribution equipment, we welcome you to contact us!