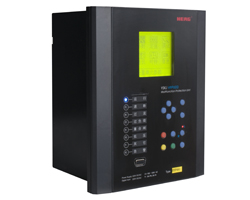 Protection Relay
Our protection relay/protective relay is a complex electromechanical apparatus. It can control operation conditions of electric circuits, and trip the circuit breaker while the fault is detected. Normally, it is used together with a coil.
Compare with switching type relays, our protection relays have a clearly defined operating voltage and other operating parameters. They are composed of arrays of induction disks, shaded-pole magnets, operating and restraint coils, solenoid-type operators, telephone-relay style contacts, and phase-shifting networks.


Our protection relay will work under such conditions, including over-current, over-voltage, reverse power flow, frequency variations, and so on. Once one of these occurs, our protection relay will trip the circuit breaker.
Nowadays, microprocessor-based instruments such as numerical relays have been well accepted by a lot of people as a result of a higher accuracy and more convenient applications. However, due to long service life, the protection relays are still used to protect transmission lines and electrical apparatus all over the world.
HYP600 series microcomputer programmable protection relay is suitable for 110Kv circuits or circuits below 110Kv. It is an ideal protector, controller, and monitor for the line, fuse group, motor, power transformer, three-phase asynchronism motor and parallel fuse group.
As an ISO9001: 2000 and ISO14001: 2004 certified protection relay manufacturer based in China, Huayi Electric Co., Ltd. mainly specializes in providing various wind turbine generators, circuit breakers, outdoor disconnect switches, load break switches, and more.
Currently, our KEMA, GOST, CCC, TUV, WTGS, and CB certified products are highly sought after by customers from more than thirty countries, such as Germany, the United Stated, Russia, Iran, South Africa, Argentina, etc.
For further enquiries and for purchase, you are very much welcomed to contact us at Huayi Electric Co., Ltd.


Other Products
Low Voltage Circuit Breaker MCB (Miniature circuit breaker) is a thermal-magnetic breaker whose rated current is less than 100A. Normally, its trip characteristics are nonadjustable. MCCB (Molded case circuit breaker) also is a thermal-magnetic breaker with rated current up to 2500A. Its trip current is adjustable...
Switchgear A switchgear refers to the combination of electrical disconnects, fuses and circuit breakers used to isolate electrical equipment. Switchgear is used to de-energize equipment for maintenance and to clear faults downstream. For safety and convenience, complete set switchgear is commonly used