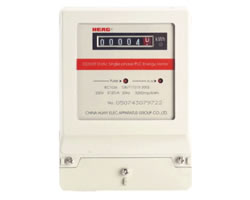 PLC Static Energy Meter
This product has been discontinued and removed from our shelves.
Our PLC static energy meter is a terminal unit of automatic reading system. It is designed with large scale integrated circuit, and employs SMT technology, microelectronic technology and computer technology. These enable our meter to have features of advanced management system, simple structure, stable performance and reliability.
Additionally, our meter adopts electric line wave. This not only reduces product cost but also avoids the occurrence of broken cable.
Features of PLC Static Energy Meter
1. Our PLC static energy meter can accurately measure active energy bi-directionally.
2. The design of accumulating electric quantity in one direction enables our PLC static energy meter to have the function of anti-electricity-stealing.
2. Our meter has a wide dynamic range. Its error rate is less than 0.3%, and its dynamic range is 1000:1.
3. The PLC static energy meter has strong memory function. It can save data for more than ten years after the power is off.
4. Both parameters setting and meter reading are available.
5. Remote operation function is available. Users can use our PLC static energy meter to remotely operate the relay.
6. The synchronous communication speed is 500bps.
7. The communication distance between two points is 500m.
8. 4-level repeater.
9. User-defined communication protocol.
10. Isolated passive pulse output for calibration and meter reading.
Huayi Electric Co., Ltd. is a major PLC static energy meter manufacturer based in China. We mainly specializes in providing various indoor vacuum circuit breakers, outdoor disconnect switches, indoor disconnect switches, PLC static energy meters, and more.
Due to reliable performance and economical prices, our KEMA, GOST, CCC, TUV, WTGS, and CB certified products are widely exported to many parts of the worlds, including Germany, the United Stated, Russia, Iran, South Africa, Argentina and other countries.
Besides, our company is located in Wenzhou City, zhengjiang Province, where we are near sea, land and air transportation facilities. You can choose the best way of transportation, depending on your situation.
For further enquiries and for purchase, you are very much welcomed to contact us at Huayi Electric Co., Ltd.
Other Products
Static Single Phase Watt-Hour Meter, DDS3 (LCD/LED) Our DDS3 (LCD/LED) static single phase watt-hour meters is one of the latest energy measure products in the world. It can promptly save data while the power is off.
The single-phase energy meter employs large integrated circuit and advanced SMT technology...